---
Who are we?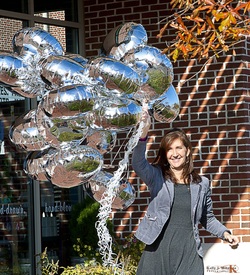 I'm Robin Wilder, the owner of Paint on Pottery. I attended the Textile Design School at North Carolina State and VCU's School for the Arts. Along with my creative staff, we have experience & training in multiple artistic mediums, and we have certification in glass design and clay-hand building. Both of which we offer classes in. If we don't have a class scheduled that you are interested in feel free to call and we can set one up for you and your group.

I am also proud to be the mother of five beautiful children and know how important it is to develop a child's creativity, as well as encouraging adults to maintain or discover their artistic side. I am also actively involved in the community, allowing local organizations to hold fund raisers at Paint on Pottery.

Paint on Pottery is the only pottery-painting studio in the greater Williamsburg area and we are located in The Shops at High Street located at 1430 High Street, Suite 709-A, next to Quirks of Art and the Movie Tavern. Located only 2 1/2 miles from the Prime Outlets!

For more information, please visit our store or phone (757) 565-3500.
Call us to set up your own personal class for your group for Day or Night!
We do classes on demand for groups of 6 or more. (8 or more after store hours)
All Classes cost $35+tax
Classes avaiable in clay, glass, CANVAS & Mosaic

---
---
Store Hours: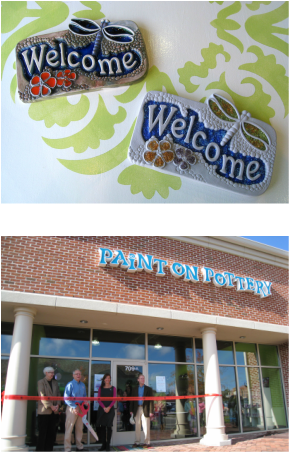 Monday:
Closed
(Open from 11 am - 6 pm
during the Summer & Winter break & select holidays.)
Check our
Facebook
page for Monday openings on School Snow days
Tuesday:
11 am - 10 pm
(Ladies' Night: 6pm - 10 pm $5 studio fee per Lady.
Classes on the 2nd & 4th Tuesday of the month 6-8pm. $35+tax Call for more info. All are welcome.)
Wednesday:
11 am - 6 pm
(Wonderful Wednesday! 60+ free studio fee!
)
Thursday:
11 am - 6 pm
Friday:
11 am - 10 pm
(Family Nights: 6 pm - 10 pm $15 up to 6 artists)
Saturday:
10 am - 6 pm
Sunday:
12 pm - 6 pm
---